Accreditations
Looking for a new supplier is always a difficult process; a lot of companies focus on price. Price certainly is important, but there's more to a supplier than their invoice. Having meaningful accreditations where tough external audits are carried out should certainly be on your list of criteria when it comes to selecting and having confidence in your security systems supplier.
As you can see here, Clarion has an impressive list of external accreditations.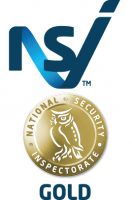 NSI
This accreditation guarantees that Clarion has been thoroughly vetted and is continuously audited. The National Security Inspectorate (NSI) is the specialist approvals and certification body that inspects companies providing home security, business security and fire safety services. Choosing an NSI approved company ensures that the contractor you select works to the highest recognised industry standards as demanded by the Police, Fire and Rescue Services and insurance industry. Choosing a Gold NSI installer should certainly be a must for a quality service.
ISO 9001:2008
Clarion has been accredited since 2006 and can meet the needs of its customers and other stakeholders. Internal and external audits ensure the operational efficiency of Clarion and that our clients are serviced by a team of experts who will strive to exceed customer expectations. With knowledge of customer needs, resources can be allocated appropriately and efficiently. Most importantly, a business's dedication will be recognized by the customer, creating customer loyalty.
The North West Consortium
The North West Consortium is an association of NHS Trusts was established in 1993. It maintains and manages on behalf of all its members Approved lists of Contractors and Consultants for services related to both construction and maintenance works for the NHS and its associate members. We are proud to be on the approved list of Contractors for the North West Consortium.
PICS Auditing
PICS is an established supplier management service in the United Kingdom, Europe, the Middle East and Africa. They are now the fastest-growing contractor prequalification company in the world. PICS' focus is on improving contractor safety and sustainability and ensures that suppliers are prequalified to work in a safe and sustainable manner. Clarion are proud to be approved by PICS auditing.